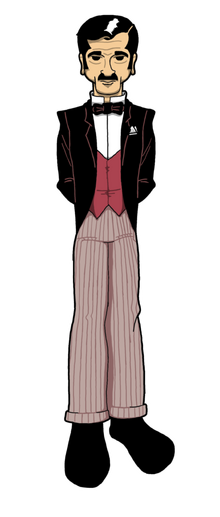 Name: Alfred Thaddeus Crane Pennyworth
Alias(es): Alfred Beagle
First Appearance: Batman v1 #16 1943
In-Universe Debut:
Height: 5'10"
Weight: 160lbs
Eyes: Blue
Hair: Black tending toward Grey
Relations, Sidekicks, Colleagues, and Teams
Edit
Pennyworth Family, Royal Marines, Bat-Clan
Wayward Earth History
Edit
Jarvis Pennyworth was the Wayne family butler for many years and through many tragedies including the deaths of patriarch Allen his wife Imogene and son Phillip. When Jarvis retired he suggested to Thomas Wayne his son Wilfred to take the position as butler. Wayne preferred the disgraced intelligencer Alfred.
The Pennyworths had quite the reputation as gentlemens gentlemen going back many many years. There were Pennyworths serving the House of Windsor. Alfred however had other ideas and as his younger brother was quite happily following in the family tradition felt free to pursue other options. Alfred attended Radley College where he first came to the attention of British Intelligence minders and while attending Cambridge was recruited into the Royal Marines. There he served with distinction as an Intelligence Officer and as a Captain was recruited by the SIS. Despite his exemplary record of completing assignments Pennyworth (known as A. Beagle during his service) had a history of salacious behavior – including an affair with France's Mademoiselle Marie - and unorthodox tactics. Eventually this became too much and it was suggested strongly that he retire. Alfred took this opportunity to return to the stage and proved himself an accomplished actor before being called into service by his father as the family butler for the Waynes.